Graz is the capital of Styria and second-largest city in Austria after Vienna. On 1 July 2015, it had a population of 310,391 (of which 278,050 had principal residence status). In 2014, the population of the Graz Larger Urban Zone who had principal residence status stood at 605,143.
Graz has a long tradition as a "university town": its six universities have more than 44,000 students. Its "Old Town" is one of the best-preserved city centres in Central Europe.
In 1999, Graz was added to the UNESCO list of World Cultural Heritage Sites, and the site was extended in 2010 by Schloss Eggenberg. Graz was sole Cultural Capital of Europe for 2003 and got the title of a City of Culinary Delights in 2008.
Source: https://en.wikipedia.org/wiki/Graz
Sights in Graz
Styrian Armoury
The Styrian Armoury, in the city of Graz, is the world's largest historic armoury and attracts visitors from all over the world. It holds approximately 32,000 pieces of weaponry, tools, suits of armour for battle and ones for parades.
https://www.museum-joanneum.at/en/styrian-armoury

Source: de.wikipedia.org
Kunsthaus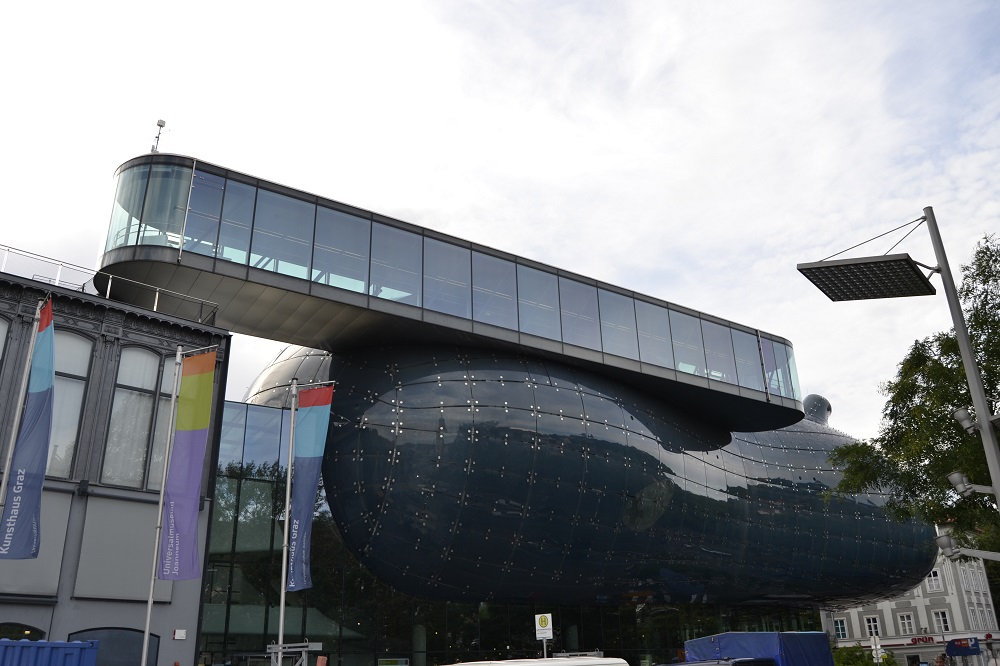 Designed by British architects Peter Cook and Colin Fournier, this world-class contemporary-art space is a bold creation that looks something like a space-age sea slug. Exhibitions change every three to four months.
https://www.museum-joanneum.at/kunsthaus-graz
Schlossberg
Schloss Eggenberg
Graz' elegant palace was created for the Eggenberg dynasty in 1625 by Giovanni Pietro de Pomis (1565–1633) at the request of Johann Ulrich (1568–1634). Admission is on a highly worthwhile guided tour during which you learn about the idiosyncrasies of each room, the stories told by the frescoes and about the Eggenberg family itself.
https://www.museum-joanneum.at/schloss-eggenberg-prunkraeume-und-gaerten
Tourist Information
The Tourist Information is located in the Herrengasse next to the city center.
ADDRESS
Herrengasse 16, A-8010 Graz
Phone: +43-316-8075-0
Fax: +43-316-8075-15
E-mail: info@graztourismus.at
Website: www.graztourismus.at
OPENING HOURS
daily: 10.00 a.m. - 6.00 p.m.
Public Transportation
The QSM Workshop venue can be reached by tram number 7 (Tram Stop "LKH / klinikum Mitte").
One-hour (Stundenkarte) and 24-hour tickets (24-Stunden-Karte) are sold at a machine in the tram and or at the bus drivers, other tickets can be purchased at places called "Trafik". Tickets are valid for all buses, trams and train or bus rides to adjoining villages (zone 1). The following categories of tickets are available and can be used with trams and buses:
"Stundenkarte", one-hour-ticket: price € 2.20
"24-Stunden-Karte", ticket for 24 hours: price € 5.00
"10er Block", allows 10 trips (equivalent to 10 "Stundenkarten"): price € 19.80
"Wochenkarte", ticket valid for one week: price € 13.80
For more information see www.verbundlinie.at
Travel to Graz
BY PLANE:
Public busses bring you from Graz Airport to the city centre of Graz (Jakominiplatz). The bus stop is outside the passenger terminal, right next to the arrival area. The price for an one-hour-ticket is € 2.20 and is available at the bus driver.
There is a train station next to the airport. The train will take approximately 10 min from the airport to the central station. For further information and the detailed time tables go to http://www.oebb.at/en/
A taxi from the airport to the city centre costs about € 20.00-25.00 and takes approx. 25 minutes.
Airport: www.flughafen-graz.at
BY TRAIN:
Timetable and online ticket shop for trains in austria: http://www.oebb.at/en/
From vienna:
There is a train every hour from Vienna central station to Graz central station which will take approximately 2.5 hours.
From salzburg:
There is a train every two hours from Salzburg central station to Graz central station which will take approximately 4 hours.